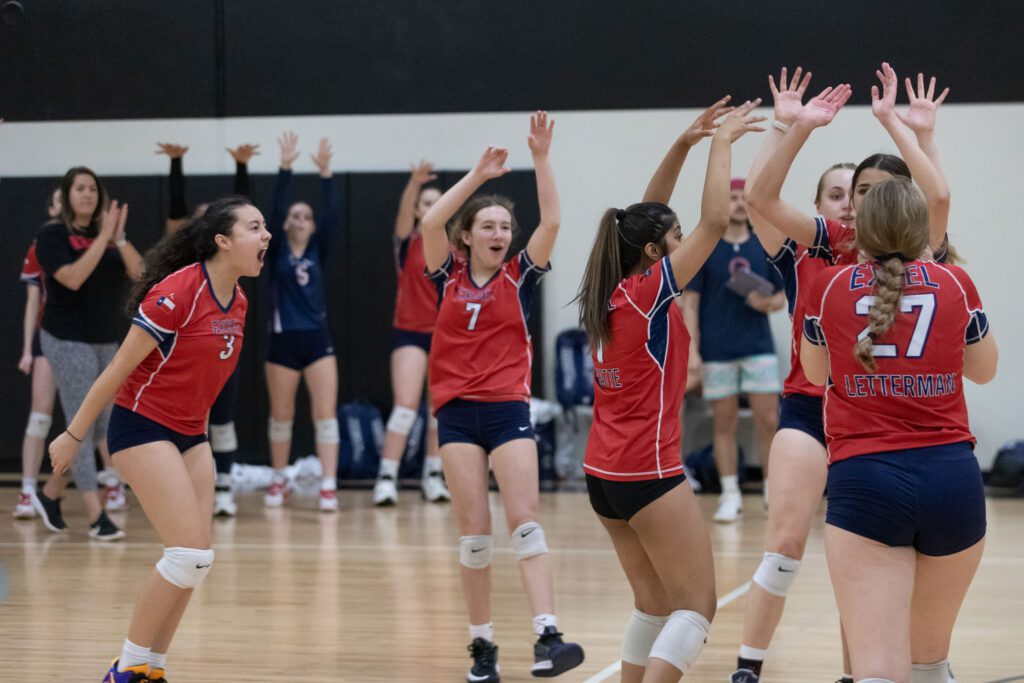 Welcome to the EXCEL website!  EXCEL is dedicated to developing the whole athlete through exceptional training, conditioning, education, and college recruiting.  We educate our players and parents on nutrition, the game of volleyball, sports psychology and college recruiting.  EXCEL promotes the development of sportsmanship, teamwork and friendship in a community based environment.  Our mission is to help athletes develop leadership skills and learn how to reach difficult goals through hard work, dedication and teamwork.
EXCEL participates in USA Volleyball and AAU events.  The club season starts in the fall and ends in the spring.  Most national teams  participate in post-season play and attend the Girls Junior National Championship.
Are you interested in joining a club team for the 2023-2024 club season?  Attend a Pre-Tryout Clinic (PTC) and get to know the EXCEL Coaching team.
EXCEL Volleyball provides an affordable, competitive, high quality juniors volleyball program in the North Texas Region. EXCEL is committed to
Hiring coaches who are experts in training players to better ensure a higher quality of play for athletes of all ages.
EXCEL is dedicated to providing athletes with an environment free from threat, ensuring parents and their children are in safe and friendly environment.
EXCEL is dedicated to providing athletses with the proper equipment and excellent facilities needed to ensure proper training.
Providing its members with a responsive administration and an open door policy between its members and the club's operators.
Providing the opportunity for all players to excel in the sport of volleyball.
Instilling a strong work ethic, to help athletes become better team players and perform at their highest level on and off the court.
Providing a top notch training facility for our athletes to develop and grow.
Providing our athletes the opportunity to continue their involvement with the sport at the college level.
Commitment Level

Varies by Team. Full commitment required for national teams

Club Dues

$2200-$6000

Fee varies based on competition and travel schedule.

Practice

3 to 6 hours per week plus positionals.  Check Team Information Guides for details.

Uniforms

RenAthletics & NIKE Volleyball
Club Director:  Sherri Hausner, director@excelvbc.com
Recruiting Director:  Laura Fossier, recruiting@excelvbc.com
Club Relations Director:  Romel Manio
Technical Director:  Justin Waters
Assistant Club Director:  Libby Shewski
Youth Director:  Hailey Tongkeamha
Serving the Plano, Carrollton, Frisco, Prosper, Farmer's Branch, Coppell, Lewisville, Allen, McKinney, Fairview, Lucas, Richardson and Dallas Metroplex.
Courtside Sports Center, 4717 Plano Parkway, Suite #110, Carrollton, TX 75010